Cailong is an enterprise with a high sense of social responsibility. The company's operations strictly abide by the laws and regulations of the country. It has been operating legally for many years and has maintained good integrity with customers. Cailong also actively pays taxes to the country on time. Regarding environmental protection, the company actively responded to the call of the country and invested a lot of funds to establish environmental protection facilities to deal with the three wastes generated in the production process. Environmental protection departments at all levels of municipalities and towns have given high recognition and praise to Cailong after they came to the company for review. In order to be recognized by society, the company also actively applied for the ISO14001 environmental management system certification, as shown in the figure below.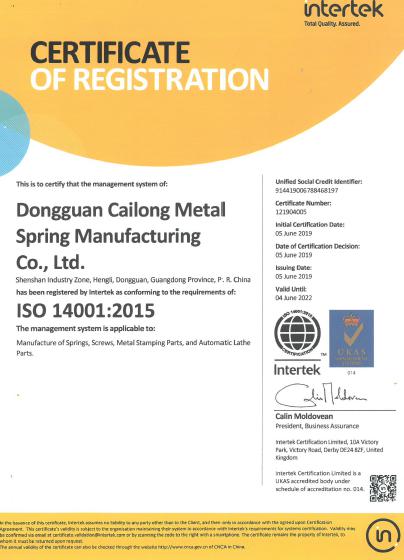 Comprehensively promote all the company's business activities to comply with national laws and regulations, which also won the recognition of customers.
The company pays attention to the occupational health of employees. Every year, employees at risk positions are arranged for occupational disease examinations to find and deal with problems in time. The company will actively require employees to purchase social pension insurance to protect their rights.
The company is a member company of the Hong Kong Metals Association. It participates in the activities of the Association every year. It will share the company's management experience with the industry. Technology patents, actively promote the development of national industrial technology and contribute to the power of the enterprise
The general manager of the company also conducts charitable activities every year to provide financial support to children in impoverished mountainous areas of the country, which reflects the humanistic love of entrepreneurs.